Safety is always a priority. At Bauer Built, safety is part of everything we do. Our professional Wheel Reconditioning services are no exception. We focus on the Federal Motor Carrier Safety Administration's safety enforcement program, Compliance, Safety, Accountability (CSA), to deliver key services that reduce vehicle violations and safety issues with your tractor and trailer tires. We start by conducting pre- and post-trip inspections, record vehicle defects, and repair them before operation.
It's essential to know when it's time to recondition your wheels. The proper maintenance of your wheels reduces the chance of failure from a rusty bolt or cracked wheel.
WHY RECONDITION YOUR WHEELS?
Professional Wheel Reconditioning and Wheel Refinishing save you money and could even save your neck. Here's how:
SAFETY & DIAGNOSTICS: Diagnostic testing is part of our reconditioning service. Removing rust, old paint & debris helps catch serious defects, including hairline fractures, rusted steel wheels or bolts, and improperly threading nuts. Find trouble before trouble finds you.
TIRE HEALTH: A professional finish makes tires easier to mount and dismount. This means a better bead seat, less tire bead damage, and improved tire air retention.
LONGER SERVICE LIFE: Maintaining a fresh, professional finish on wheels protects against corrosion and debris and can significantly extend wheel service life.
VEHICLE APPEARANCE: A well-maintained rig is your own billboard on wheels. Refinished wheels have that "like new" look without the new wheel price tag.
REGULATORY COMPLIANCE: Meet all OSHA & Federal Motor Carrier Safety Administration requirements. We tailor our wheel reconditioning services to FMCSA's Compliance, Safety, Accountability (CSA) enforcement program.
---
WHEN TO RECONDITION YOUR WHEELS?
If you detect any of these common signs, it may be time to recondition & refinish your commercial wheels:
If rust covers more than 20% of the wheel surface.
When you find rubber, debris or visible rust in or at the bead seat.
If you find rust around the bolt area.
When build-up of powder, paint or debris around the bolt area is more than 3 mils thick.
---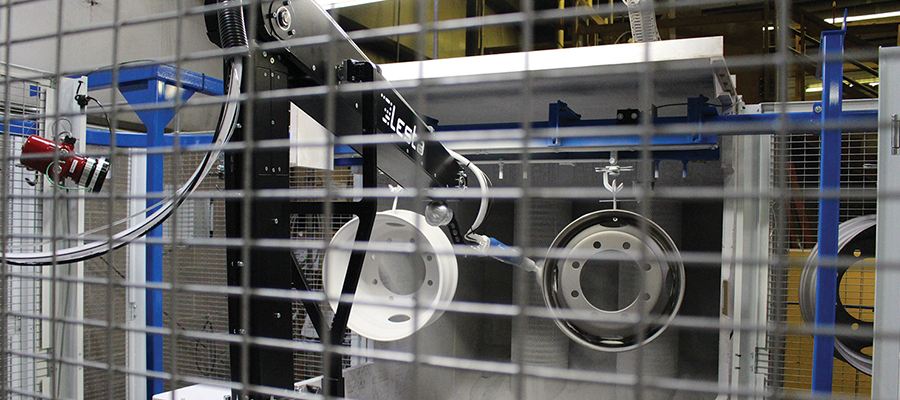 OUR 10-STEP WHEEL REFINISHING PROCESS
Customers bring wheels to their local tire centers. Our tire centers send the wheels to one of Bauer Built's three wheel refinishing plants.
We clean and prepare wheels for refinishing.
Our team blasts the wheels with steel shot & abrasive grit. This removes built-up dirt, grease & old paint.
We then inspect the wheels for potential safety issues.
After the wheel passes inspection, we repaint the wheel. Our Lesta robotic painter applies the paint to a standard 3 mils thickness for a more consistent powder finish. 7 standard paint colors available.
Primer applied (optional).
Wheels are cured in an infrared catalyst oven for 15 minutes.
Powder-coated finish transforms into a durable, permanent finish that looks like new.
We inspect and prepare refinished wheels for customer return.
We label every customer's wheels. This guarantees that you will receive your own wheels.
---
Wheel Refinishing Process
Bauer Built is committed to helping fleets and owner/operators care for their wheels with our in-depth wheel refinishing process.
ROBOTIC POWDER APPLICATION
We've installed a new Lesta robotic powder application paint station at our Durand, WI, wheel refinishing plant. Once the unit has completed the self-learning mode, it delivers precise powder application over the entire painted area every time.
With Lesta robotic application, you receive:
Accurate powder application to true 3 mils thickness.
Improved wheel quality and appearance.
Proper air retention from an evenly coated bead surface.
Reduced wheel-off risk due to consistent application on the mounting surface.
COLOR OPTIONS
Bauer Built currently offers 7 standard finish colors on all orders: white, black, gray, orange, yellow, red & blue.
Bauer Built is also able to accommodate custom color requests on orders of 100 wheels or more. For high-volume customers interested in custom-color wheel refinishing services, please contact Bauer Built's Durand, WI offices.
---
The Bauer Built Wheel Reconditioning Guarantee
Our wheel refinishing and conditioning process will deliver:
Inspection and diagnostics: We'll identify the underlying condition in your wheels like hairline fractures, rusted steel wheels, or bolts and lug nuts that won't thread properly.
Proper finish coats and sealers: Bauer Built's 10-step process reconditions wheels with an even curing in the oven for better rust resistance and efficient future refinishing.
Air retention and reduced bead damage: maintaining air pressure at the proper PSI minimizes the chance of a tire blowout on the road.
Improved tire mounting/dismounting: Cleaned and properly prepared wheels get you back on the road quicker and keep you in-service longer.
We guarantee each customer receives their original wheels back and ready for whatever happens on the road.
Read more about the Bauer Built wheel reconditioning process.
---
WHEEL RECONDITIONING SERVICES
Every customer receives the following wheel refinishing services:
We clean and inspect the customer's wheels.
Wheels get blasted with hot steel bearings to remove all paint, grease, and oil.
We inspect the wheels again before priming and painting.
Finally, the wheels are cured in an oven for 15 minutes for a glossy finish.
Bauer Built wants you to get the most from your tires and strives to increase their longevity. Contact us online or call one of our locations for a price quote today.
BAUER BUILT SERVICE LOCATIONS
Click the links below for contact and service information for individual Bauer Built locations throughout the Midwest.