Founded in 1944 as an oil jobbershop, Bauer Built has grown to become one of the largest commercial tire dealers and retread manufacturers in the United States. Today, we serve customers at commercial and retread locations across the Midwest.
Serving our local communities for more than 75 years, Bauer Built is a powerhouse for commercial truck tires and related services. We continue to follow the mission and values of our founder, G.F. "Sam" Bauer, to provide you with the best in new and retreaded tires and commercial services.
We remain a family-owned company with a commitment to excellence in everything we do. You can count on the friendly and knowledgeable staff at your local Bauer Built Tire & Service center to keep you in operation.
Commercial Services
We understand how important it is to keep your company vehicles in operation. Knowing who to call when you need maintenance or repair services can save you time and hassle. We hope you'll choose Bauer Built for all your fleet service needs. Services we offer include 24-hour emergency roadside tire service through the MICHELIN® Commercial Service Network, mechanical services, tire maintenance, wheel reconditioning and replacement, fleet reports, and our mounted wheel program.
Bauer Built, Inc. has become one of the largest commercial tire and service dealers and retread manufacturers in the United States through a long-standing commitment to exceeding customer expectations. Founded as an oil delivery service in 1944, Bauer Built has steadily developed into a top provider of commercial, fleet, and retail tires and mechanical services. Bauer Built employs more than 600 dedicated individuals across nine Midwest and Great Plain states in tire and service centers, petroleum, and administration divisions. Commercial drivers and fleet managers trust the family-owned company to provide quality services and products that keep them on the road mile after mile.
Tire Division
33 Tire & Service Centers
1 Wholesale Division
5 Michelin Retread Plants
2 Rim and Wheel Reconditioning Plants
---
Our Story
Over the last 75+ years, Bauer Built, Inc. has grown from a small oil delivery company to a Midwestern powerhouse provider for commercial truck tires and service.

This success is attributed to the vision of the company founder, G.F. "Sam" Bauer and the family members who later led the business to even greater success as a commercial tire provider and retread manufacturer.

In the Beginning
In 1944, Bauer Built, Inc. sold petroleum products to farm accounts and residential customers near Durand, WI. Ownership of a gas and service station naturally led to tire sales, including retail, wholesale, and commercial tire sales and service.
Expanding the Tire Division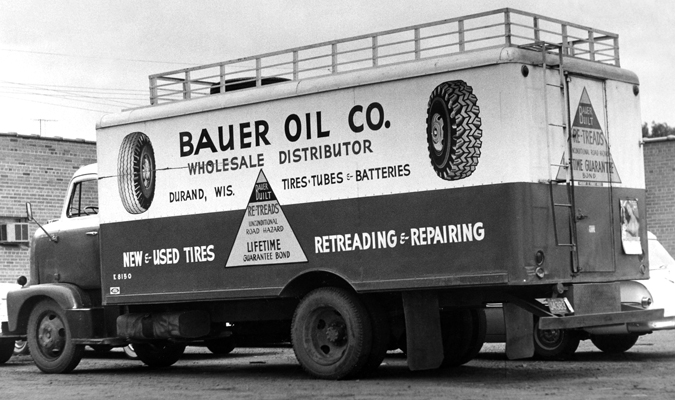 The company began manufacturing retreaded tires ten years later. By 1963, Bauer Built had grown to over $2 million in sales.

By 1975, Bauer Built had sales over $10 million and operated tire centers in Eau Claire and Durand, WI. In addition to the bulk oil business, it also ran a retread manufacturing facility, a wholesale distribution center, a NAPA Parts Store, and a Holiday Station Store in Durand.
A Family Legacy of Leadership
After 32 years leading the growth of the business, Sam sold the majority of his interest in Bauer Built to his sons and sons-in-law in 1976. They took on the management of the company's tire, petroleum, and administration divisions. Sam retired from full-time duty in 1980 and passed away 14 years later, after 50 years of service and dedication. Today, under second- and third-generation leadership, the company has continued to expand through the acquisition of tire centers and retread manufacturing facilities across the Midwest. Customers have come to rely on Bauer Built for their tire and service needs because of our high-quality products and services.